This Lazy Mom Tip was sent in by my bestest friend from childhood.  Check it out! 
I recently gave birth to my second adorable baby girl.  Both of my girls are still in diapers, so when the second one came I had to give a little thought to the diaper bag and this is what I came up with.
I went to Walmart and bought pencil bags in several different colors to hold each kids' stuff. That way I can tell quickly which diaper fits who and where the wipes are (believe me, a new born diaper is NOT meant to hold the poo of a 32 pound toddler…. and yes, it was tested…. but that's another post for another time!)
So here's a photo of my diaper bag with the little colored pouches… diapers, wipes, change of clothes/burp rag for my new sweet baby all tucked away in a neat little grab bag that's colored coded and easy to pull out instead of her sister's bag of items.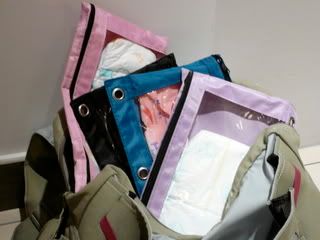 —
Don't miss the laziness! Subscribe to I'm a Lazy Mom via reader or email today!
Or follow along with the fun on Twitter, Facebook, Pinterest, and Instagram!