On our very looooong drive to Texas from Ohio via Florida (it's complicated), I came across some new Lazy Mom travel tips that helped make my road trip with three kids in tow a little more enjoyable.  And I thought you might benefit from them too.  Especially seeing that you all have enjoyed my other Lazy Mom Travel Tips!  And, ESPECIALLY if you are planning a long road trip anytime soon.
So, in no particular order, here are my latest and greatest travel-tested tips!
This website (that also has a handy android app) was absolutely perfect for our road trip!  It helps you find the lowest gas prices along the route you are driving. Gas prices are displayed on a map and prices are color-coded to help you quickly see low, average and high gas prices along your drive.
My son was able to pull this app up on my phone and tell me the cheapest gas prices along our route at any time.  It was fabulous, and a definite road trip must-have, in my penny-pinching opinion!
2.  Car Caché®
The Car Caché® is a product that a mom created out of sheer desperation to keep her son's muddy feet off of her purse that sat at the foot of his passenger side chair.  Come on moms, you know what I'm talking about?
There was no where for her to store her purse where it would stay clean and be within reach, so she created the Car Caché®!  A net like product that straps between your front seats and neatly holds your purse!
Like so:
This product was perfect for our long road trip seeing that I now have two boys that can sit "up front."  Seriously, before they sat up front, my purse sat on the front passenger seat (isn't that where we ALL put our purse?).  But when my boys moved to sitting there, there suddenly was a problem of where to put my purse.  The Car Caché® fixed that problem with the perfect place for me to store my purse on our trip and kept it within reach for quick toll money or drive-thru stops.
Note: The Car Caché® only works in cars with a center console and head rest posts.  So while this product doesn't work in my usual run-around-town vehicle, it does work in our small car that we take on road trips!
3. Hands-Free Device.
Okay… I know.  I'm like, SO late to the game with this one, but a few hours into our road trip, I stopped at a Walmart and bought myself a hands-free cell phone holder.
It was nothing short of FABULOUS.  I'm not even exaggerating!  My map, music, speaker phone (for phone calls) was all right where I could see it and pay attention to the road.  I'm kicking myself that I didn't buy one sooner.  Seriously.
I love the one I purchased, the Scosche IHW10, because it's a 4-in-1 adjustable mount.  Meaning it accommodates windshield, dash, vent and cup mounting options.  I used the vent mount option because my dashboard was too small for the suction cup mount.  It worked great and has a 360 degree ball joint for vertical or horizontal viewing.  LOVE IT!
4.  Paper Maps.
I know, I know… it sounds lame, but seriously, stop at each state's welcome center and let your kids grab a free paper map of that state.  My oldest child LOVED them!  No kidding!  He would mark our route with a sharpie marker and then as we traveled along he'd look for road signs and mile markers to highlight the distance we'd traveled.
This helped get him through the L-O-N-G road trip by helping him see a little thing called, "progress."  As long as he felt there was progress, he was happy.  Try it!  It works (with these type of kids!)
5.  New Road Trip Toys.
It's been said before, but I'll say it again.  Nothing seems to buy my kids' time like a new "road trip approved" toy.  For years we did the tip I've shared before about stopping at the dollar store and letting each child buy something to keep them occupied through the next several hours of the trip, but now we are at the point where sometimes we stop at Walmart and search the clearance aisles (or give them a certain dollar limit) to find a toy that will provide them with some more long-term entertainment.
This time?  We found a magnet fashion book (you can find the one we bought here or see other magnetic book items on Amazon here) and it kept my daughter occupied, not only during the drive, but in the hotel room at night!
We also sometimes let them search the $5 movie bin to find a new DVD to keep them entertained with for a few hours.  In my opinion, it's money well spent!
So those are my newest Lazy Mom travel tips! I'd love to hear some of your tried and true tips (you can leave a comment below this post!).
Now for the giveaway!  In celebration of National Travel and Tourism Week, I'm hosting this amazing giveaway along with some fellow bloggers.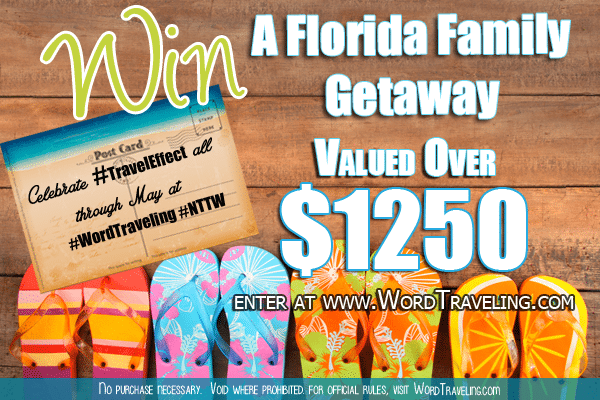 Ready to hear what you will win????
One winner will be blessed to receive the following:
3 nights stay at Casa del Rey in Hobe Sound Beach – value $450.
2 nights stay for a family of 4 plus Breakfast at Sun Tower Hotel Suites in Fort Lauderdale – value $500.
Geo Matters Maps & Geography Bundle TBA – value $150.
Wonder Maps from Bright Ideas Press – value $49.95.
Apple Core one year subscription – value $55.
Words With Wings One Year Subscription from Word Traveling – value $59.
Car Cache – value $20.
TO ENTER: click on the above giveaway picture and you'll be directed to the giveaway page! Scroll down to the bottom of the page and enter via the Rafflecopter form!
Disclosure: Car Caché provided me with their product to try during my road trip. No other compensation was received for this blog post.
–
Don't miss the laziness! Subscribe to I'm a Lazy Mom via reader or email today!
Or follow along with the fun on Twitter, Facebook, Pinterest, and Instagram!