1. Today I told my kids we were going on a boat ride at one of our MetroParks.  When we got there it turned out it was a "trolly on wheels" instead.  They were only slightly disappointed.
2.  I cut my daughter's hair off on Sunday. Well, I didn't cut it off, Great Clips did.
It went from this:
To this:
I love it on her.
3. Those of you who know what a Prefense junky I am, and hopefully have become one yourself, will know the thrill and excitement I am experiencing over their totally awesome new combo pack.  Eeeek!
For only $7.99 you get the hand wipes and the 1.5oz bottle! Considering the hand wipes and the 1.5oz bottle are both $6.99 on their own, that's basically like buying one and getting the other one for a dollar! Woot!!
4. Yes, I do know how lame I am that I get excited over hand sanitizer combo packs.  But this ain't your grandma's sanitizer baby!
5. I'm SUPER excited about "Decorating the Lazy Mom Way with Traci Romine" starting tomorrow!  Seriously.  It's gonna rock.  Because she rocks.  And I like to think I rock.  And we all know this blog rocks, so come on! It's gonna TOTALLY rock tomorrow.
Why don't you go ahead and grab the code for her cute button and put it on your blog somewhere, huh?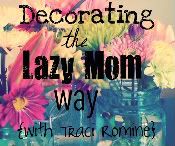 6.  I used rock five times in number five.
7.  And you all just went back and counted it to make sure it was five, didn't you?
8.  And if you didn't before, you just did now.
9.  See?  I do rock.  I know what you're going to do before you even do it.
10.  Not really.  But I like to pretend I rock and that I know what you're going to do before you even do it.
—
Don't miss the laziness! Subscribe to I'm a Lazy Mom via reader or email today!
Or follow along with the fun on Twitter, Facebook, Pinterest, and Instagram!