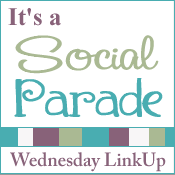 Hello, Hello!
Today I'm linking up to a social parade! 
Not really sure what that means, or why I'm doing it, but I am!  How's that for being lazy…. Too lazy to figure this thing out, but willing to post about it anyway.  This is one of those moments when you should just shake your head and choose to love me anyway despite my shortcomings, mkay?
So if you're new to I'm a Lazy Mom…. you can find out more about us here. 
Look around for a while and if you like what you see, feel free to "follow" us over there on the sidebar, or subscribe to us. 
If none of that makes sense to you, or you're too lazy to figure it out (like apparently I am today) then you can very easily have our lazy, lazy posts on this blog emailed directly to you instead.  That's super convenient and lazy-friendly for sure.
If you'd like to hop in on the blog parade, just go here and join in!