This is a Sponsored post written by me on behalf of Buffalo Wild Wings. All opinions are 100% mine.
In case you live held up in a monastary somewhere and have no access to the outside world other than the times that you sneak into a secret computer room down the damp stone hall and hop on the internet long enough to read my blog when no one's looking; I felt it was my duty in life to inform you that football season is upon us. 
You're welcome.
I enjoy helping those of you who may find yourself in this situation.
And in case you were unaware of the reprecussions of that statement (that football season is upon us) I also feel it's my duty to inform you that this in turn creates many "football widows," as there are many women out there that don't enjoy watching football.
Now, normally I would not be labeled a football widow, seeing that Lazy Dad isn't a huge football watcher. However, this year he is participating in more than one Fantasy Football league and has been watching more games than usual.
So being the smart, savvy, gorgeous woman that I am, when church ended on Sunday and everyone was hungry and some game was on that Lazy Dad and our worship leader wanted to watch, but I wanted to go out to eat and not be a football widow at home, we high-tailed it to Buffalo Wild Wings. That way the kids and I could enjoy a meal out, and the fellas could enjoy the game.
Have you ever been to B-Dubs? As it's affectionately nick-named.
(Which, incidently, is a shortened version of it's other nickname BW3's.)
(Which, incidently, is a shortened version of it's original name of Buffalo Wild Wings & Weck.)
(BAM! Betcha didn't know that!)
If you've never been to one, they have big TV screens everywhere with random sports games on them. Which the guys didn't take long to get totally absorbed into.
But then their attention snapped right back, when the wings arrived.  Especially seeing that Lazy Dad ordered 50 of them.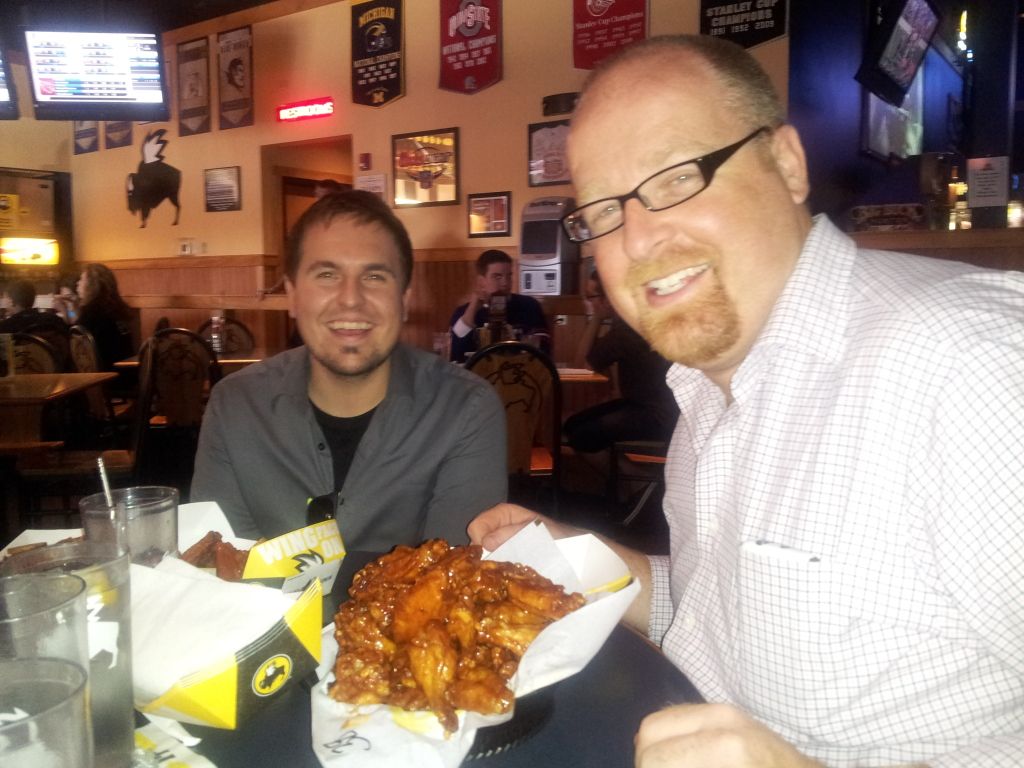 Don't worry! He didn't eat them all! They were for everyone to share.  My kids LOVE wings.
And this kid, in particular, loves HOT wings.
See? He was dipping the Blazin' Hot wings into more hot sauce! NO LIE!
I, however, do not like hot stuff and I prefer the boneless wings, so I instead opted for a flatbread. It was fabulous.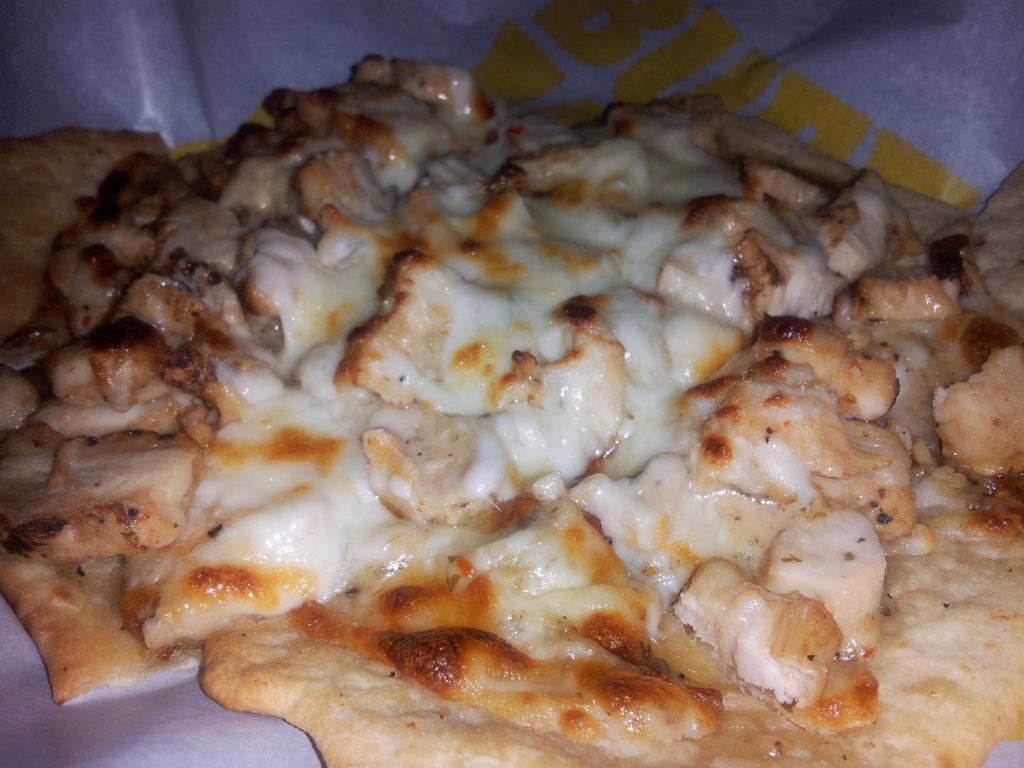 Mm, mm.
Now, with football season upon us, B-Dubs is having a very fun game you can play where you can win gift cards! SCORE! You simply must check it out: Protect the football. Get to B-Dubs.
AND, because Buffalo Wild Wings is the mecca of football watching this time of year, they would love to give one of my fabulous readers a chance to win a $25 gift card right here on this little ol' lazy blog!
To enter: simply leave a comment on this blog post stating how you would enjoy football season at B-dubs if you won. (You must leave your email address in the comment. Feel free to use the myname[at]mail[dot]com method)  That's it! 
And in case you are the type that likes to read the rules, here's B-Dubs official rules for this giveaway.
Over and out.
—
Don't miss the laziness! Subscribe to I'm a Lazy Mom via reader or email.
Or follow along with the fun on Twitter, Facebook, and Pinterest!