Wasn't that a very well thought out title to this post?
Upcoming Things.
Doesn't get any more lazy than that folks.
Anyway, I did want to take a little time today to tell you about some upcoming things on this here blog.  Man I'm eloquent.
So.  The first upcoming thing I want to tell you about is this… each Wednesday (starting NEXT Wednesday) through December 29th, I'll be participating in a fun link-up with my good friend Jenilee over at The Goodwin Family and her good friend Lynette Kraft over at Dancing Barefoot on Weathered Ground.
Now normally on Wednesdays Jenilee posts a link-up called Wednesday's Walk Down Memory Lane where blogs everywhere can link-up a post about one of their memories (old or new).  But seeing that the holidays are upon us, we thought we'd join forces and have "A Lazy Walk Down Memory Lane" just until we are out of the Christmas woods.
The Christmas neck of the woods?
The neck of the Christmas woods?
Er, till we're done with Christmas, okay?
Anyway, here's what you would do to participate (and don't worry, it's LAZY)…. Starting next Wednesday simply link-up an old post you've written on your blog instead of writing a new one. You will link-up your old post in the linky thing-ma-jigger at the bottom of my blog post next Wednesday.  Then it will automatically show up on Jenilee's and Lynette's linky's too! (Talk about exposure!)
You can link-up any old post you thoroughly enjoyed… whether it be a past holiday post or a favorite post from your first blogging days, or the best-of-the-best of your blogging posts, whatever! Link up any post and enjoy lazy blogging each Wednesday as we take A Lazy Walk Down Memory Lane together.
Look for that starting next Wednesday, mkay?  Oh, and grab the button and post it on your blog's sidebar to spread the word about it, too!
Now. Another upcoming thing I wanted to tell you about is something I've been mulling over in my mind for a few months. Something called "A Lazy Mom Meet and Greet."  And what better time to meet and greet each other, than over the holidays!  Right?  Right.
On December 6th and 7th I'll be hosting A Lazy Mom Holiday Meet and Greet right chere. (That's another way to say here in case you were wondering.)
All you need to do to participate is write a "meet and greet" post introducing yourself and your blog (and possibly mentioning how much you love The Lazy Mom *ahem*) and link it up to the linky thing-ma-bopper (you thought I was going to say "jigger" didn't you. Well HA!) and we'll all meet and greet each other. Hence the name, A Lazy Mom Holiday Meet and Greet.
I know. I'm brilliant AND creative. No need to tell me.
So. Grab the button for that as well and put it on your blog's sidebar and in your Meet and Greet post coming up on Dec. 6th and 7th! This will be a great chance for us lazy moms to get to know each other even more!
And don't worry, this will make more sense come Dec. 6th and 7th.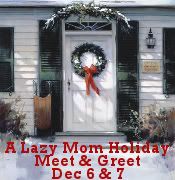 Okay. ONE MORE THING, I promise.
I was given a GREAT idea for Christmas for this lil' ol' lazy blog, but I'm just not sure I can pull it off.
Here's the idea… Lazy Christmas Gifts. Homemade gifts that are easy and inexpensive to make (and easy enough that a lazy mom can make them — or will WANT to make them)!
What do you think?
Do you have Lazy Christmas Gift ideas? If you can think of some, email them to me! If I get enough, maybe we can make this thing fly.
And with that, this post is officially over. Thanks for letting me "talk business" for a while.